SportsStretch® in South Loop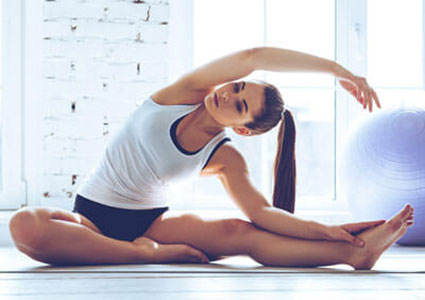 Whether you're a runner, football player, golfer, or triathlete, you want to up your game and get that coveted competitive edge. At Active Body Chiropractic, we are passionate about helping athletes of every level, as well as those seeking greater range of motion and flexibility in their everyday lives. To that end, we're pleased to announce that we've added SportsStretch to our robust suite of services.
What Is It?
SportsStretch is a floor mat, movement based full body routine developed by Christy Swiatkowski, LMT. She put together the stretch routine for professional athletes, and it got so popular that she decided to train other massage therapists so they can offer it to their clients. At Active Body Chiropractic, Venise, our MT and CA, offers SportsStretch and is certified in the routine.
New Patients

Combines Many Techniques
SportsStretch combines different techniques that include
Thai massage
Ashiatsu, a massage method which uses the feet
Myofascial and musculoskeletal techniques
Traction
Proprioceptive Neuromuscular Facilitation (PNF)
Post Isometric Relaxation (PIR) techniques
Active isolated stretching
In addition to being a combination of these, SportsStretch also has some dynamic (active) stretching and some passive stretching. It also uses your body. "I'm using my knees, elbows, and forearms to help the patient get a full body stretch," said Venise.
Who Can Benefit?
SportsStretch is ideal for everyone who feels tight. The full body stretch helps increase mobility, and assist with recovery after playing a sport or riding a bike, or even just from sitting at a desk all day.
"Sometimes we're in fixed positions at work, and we get really tight. What SportsStretch does is loosen those joints up a little bit from being in that fixed position or doing a repetitive motion from playing a sport," said Venise.
If you're in the same position, you're overusing one side, and then the other side is compensating, and basically acting as a support. It's contracting-it gets tight. So, in combination with massage, stretching is highly beneficial.
"When we do the SportsStretch, we usually start with a stretch, then we go into massage, but sometimes we'll do a massage first to manually loosen muscles, and then we'll go into the stretch. It depends on what's going on with the individual," said Venise.
Frequently Asked Questions
Can SportsStretch be customized?
Yes. Although a full body routine is used if the individual only needs upper body work, the routine can be adjusted to where we do nothing but upper body or lower body stretches, depending on what's going on.
Have you used this on any pro athletes?
Yes. When Venise first got certified, probably within six months (right when football season started), she worked with offensive linemen who play for the Chicago Bears.
Does insurance cover the therapy?
If you are a patient of one of our doctors and working with our therapist, Venise, with this method it might be covered. We are in network with BCBS PPO.
Book an Appointment
Experience for yourself how SportsStretch can benefit you. Contact us today to book an appointment!

SportsStretch® South Loop, Downtown Chicago IL | (312) 922-9868