Meet Dr. Alexandria Nealy
Choosing the Chiropractic Path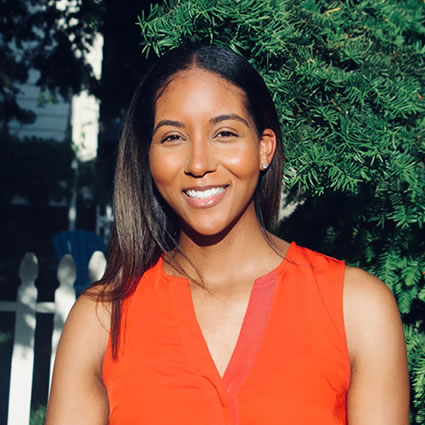 In high school, Dr. Alexandria considered what career path she wanted to take in the future, and knew she didn't want to work an office job. Being an athlete, she had strong interests in anatomy, a fascination with the body, a love for science, and the desire to help people.
I wanted to combine all those things and was also able to get exposure to the field by working for a chiropractor. That's when I realized this is what I want to do."
Education
In 2013, Dr. Alexandria earned her BS in Kinesiology from Hampton University, located in Hampton, Virginia. She also earned an education certificate to teach PE and Health from K-12. After receiving her bachelor's, she completed her Doctorate of Chiropractic from National University of Health Sciences in 2018.
A Passion for Problem-Solving & Helping Patients
Dr. Alexandria loves that the challenges of being a chiropractor are unlimited, and there's significant problem-solving involved. "I like that no two cases are identical and that I get to educate patients and ultimately help them feel and do their best."
According to Dr. Alexandria, it's important to provide education so that patients know what to do when they're outside the practice. "For example, when you're sitting in front of your computer screen, it's important that you know to get up and walk every 30-45 minutes. Without patient education, it doesn't complete the whole health journey."
In addition to chiropractic care, Dr. Alexandria provides and demonstrates basic exercise and stretches, and gives some rehab and PT to patients. She also shares little tidbits and gems that can increase the quality of life for her patients.
Explore Our Services
Joining the Active Body Chiropractic Team
Dr. Alexandria is delighted to be part of the practice team and likes all the various modalities that Dr. Dylan uses, such as ART, Graston, and dry needling. She utilizes these therapies to help her patients get better quickly and it is rewarding to provide care to those in her community.
"I'm looking forward to working alongside Dr. Dylan, learning, sharing my knowledge, and being an asset to the team." Dr. Alexandria's excellent bedside manner and the fact that she listens attentively to patients indeed make her an outstanding addition to the practice. She also has an amazing natural touch for the release techniques the clinic specializes in.
Outside the Practice
When she's not working, the Oak Park, IL native enjoys spending time with her attorney husband and their young twins. She and her husband like spending time with both sides of their families as well as their friends. Going to different restaurants and trying new foods are some of her other favorite activities. She also enjoys traveling when she can.

Dr. Alexandria Nealy | (312) 922-9868