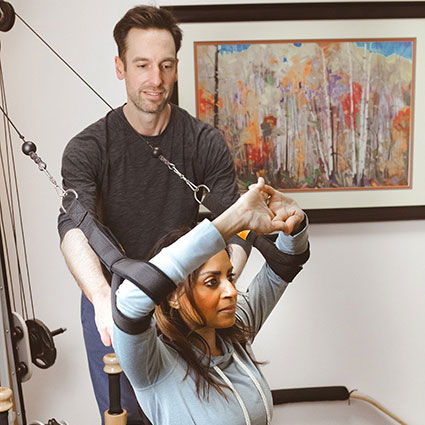 GYROTONIC® in South Loop
GYROTONIC is a unique method of whole body movement, intended to teach clients proper spinal and joint mobility. We can increase range of motion and decrease pain by creating space in your spine and joints, engaging deep muscles, and building new strength to maintain a healthy pattern of movement. Additionally, we incorporate breath with the exercise, releasing tension and providing a great cardiovascular benefit.
At Active Body Chiropractic, the GYROTONIC equipment we use is the Pulley Tower, which allows you to decompress your body, including any joints, and then move through spiraling, circular patterns to build strength and range of motion from the inside out.
New Patients

What Are Some Benefits?
Effective for both injury prevention and recovery
Promotes core strength, balance, flexibility, and mobility
Suitable for those with joint replacements/joint pain
Can be used as a cardiovascular workout
Customized to Address Many Conditions
One of the significant advantages of the GYROTONIC Method is that it is customizable to meet your specific needs. There are 100 different exercises clients can go through on the GYROTONIC Pulley Tower. Patrick, our instructor, can use the machine to help people not only with their spine, but with hip, knee, and shoulder issues.
The equipment is ideal for all individuals, including aging individuals. "Every move is supported, they feel safe. Typical feedback is they wish they had found the method years earlier!" said Patrick.
How Does It Help Athletes?
Patrick's clients are also very active in running, tennis, golf and resistance training. The GYROTONIC method allows athletes to get in an excellent workout without compression or jarring exercises. He said, "I've tried almost every style of fitness routine, this is the best example of active recovery. Plus, GYROTONIC movement brings on such body awareness, clients can really identify how to open the areas that are blocking free movement".
Elite athletes and performers around the world use GYROTONIC exercise as part of their training regimen.
What to Expect
Our highest priority is creating a comfortable environment for you to move freely. Depending on need, a typical first session would involve basic spinal motions of arches, curls, and spiraling in each direction. Then, we create traction in your spine in a horizontal position and add lower body movement. We finish by opening the shoulders and upper body in a seated position. We can also incorporate breathwork into your session to ensure you leave feeling refreshed and relaxed!

GYROTONIC® South Loop, Downtown Chicago IL | (312) 922-9868