McKenzie Method in South Loop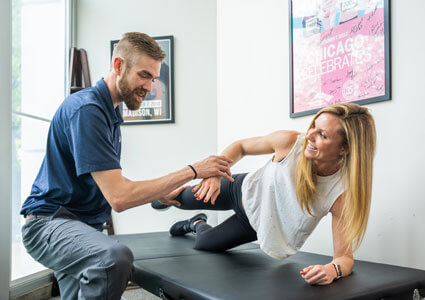 Do you often experience stiffness in your joints or postural problems due to your sleep position? At Active Body Chiropractic, we offer the McKenzie Method, which is an assessment tool to classify various movement problems.  This method is renowned for its ability to help people with spinal disc herniations or disc trauma. This assessment leads to appropriate movement-based treatment and education around positions and postures for your specific condition. These targeted movement exercises decrease pain, joint stiffness and discomfort, and ideally restore you to normal movements.
New Patients

A Four-Step Method
The McKenzie Method of Mechanical Diagnosis and Therapy (MDT) consists of four primary steps: Assessment, Classification, Treatment, and Prevention.
The first step starts with listening to the patient and understanding where they are currently and where they want to go. Your doctor will take a detailed history of symptoms and how they behave. During this assessment process, he will ask patients questions, such as
What's making things better or worse?
What effects does sitting have on your complaint?
Based on the findings in the assessment—whether loss of range of motion or neurologic symptoms like weakness, numbness, or tingling—he takes that information down and assesses it. Next, they determine what can be done from a movement standpoint, such as posture education, to help or improve their condition.
Throughout this assessment, we're constantly monitoring the patient's pain response, as well as other baseline activities.
During this step, your doctor begins to create the patient's roadmap for care based on whatever stretch, movement or exercise is needed to perform throughout their day. He will prescribe specific movements (based on classification), and provide advice on postures and positions to incorporate, as well as what postures/positions to avoid. For patients with more difficult mechanical problems, your doctor will take a more hands-on approach to mobilizing their joints into a certain direction. To do that, he uses Active Release and chiropractic care.
Empowering Patients in Their Journey
The McKenzie Method emphasizes active patient involvement in their plan of care. In addition to being prescribed individualized exercises, patients are equipped with the knowledge and tools they can use after receiving our care.
Book an Appointment
Experience the many benefits of the McKenzie Method. Contact us today to schedule an appointment!

McKenzie Method South Loop, Downtown Chicago IL | (312) 922-9868