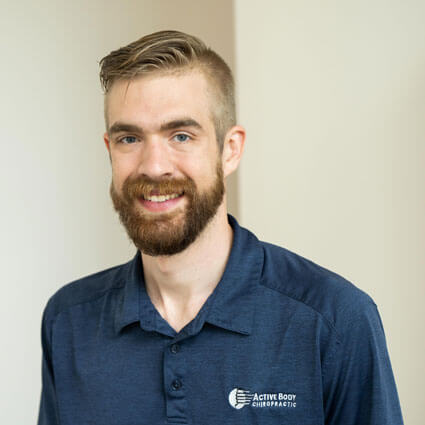 Meet Dr. Anthony Kelley
A Passion for Movement
Dr. Anthony attended the University of Illinois—Chicago, where he was a four-year Division I basketball player. Over the course of his athletic career, he learned about and experienced some of the amazing things our bodies are capable of. Those experiences fueled his passion for understanding human movement, biomechanics and anatomy. Pursuing a career in chiropractic was a logical extension of that passion.
He received his Doctor of Chiropractic Degree from the National University of Health Sciences in 2018, and joined Dr. Dylan in practice at Active Body Chiropractic in 2019. Dr. Anthony has worked with various conditions, including Complex Regional Pain Syndrome, post-surgical cases involving the spine and extremities, and many other musculoskeletal conditions and injuries. He specializes in sports injuries.
Soft Tissue Focus
Active Release Techniques® (ART®) helped keep Dr. Anthony on the court, and it's one of the techniques he uses to help others remain active and do the things they want to do. He is certified in Full Body ART. His other certifications and specializations include
Titleist Performance Institute Certified
McKenzie Method of Mechanical Diagnosis and Therapy, A-D Certified
Kinesiology taping methods
Acupuncture and dry needling
Patient Education
Dr. Anthony is committed to helping patients understand what's going on with their body, and how our approach to care may help in a different way than methods they have tried in the past. He enjoys sharing his passion for biomechanics and human anatomy with others to offer them hope that they can regain their mobility and function.
In His Spare Time
Away from work, Dr. Anthony loves to read, golf and listen to music. He still enjoys playing basketball. But his favorite thing is spending time with his son, Ashton, and his daughter, Jordyn.

Dr. Anthony Kelley | (312) 922-9868